Details

Category: Information om Manipulation
Created: Tuesday, 16 September 2008 15:10
Written by Nylonmanden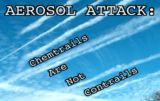 Chemtrails Are Not Contrails - Kemikalie-spor er ikke kondenserings-spor.

Info omkring Aerosol wikipedia.

Video handler om:
Chemtrails: Aluminium Oxide, Barium Oxide, Biological Weapons, Ethylene Dibromide, Polymer Fibers and Filaments. One Sprays - One Doesn't. Turns Spray On. Weather Manipulation.The Black Line. Respiratory Infections, Chronic Flu Symptoms, Asthma and Allergies, Chronic Fatigue, Short Term Memory Loss, Chronic Cough, Arthritis Like Symptoms, Headaches and Dizziness, Skin Rashes. Bacteria, Fungus. Mycoplasma. Depopulation. Who's Spraying You ?

Video lavet af: kissthisguy88

Varighed: lidt mere end 2 minutter.