Know More News - The Bolshevism & Zionism Dialectic
Details

Category: Information om Manipulation
Published: Friday, 12 April 2019 02:00
Written by Nylonmanden
Hits: 16094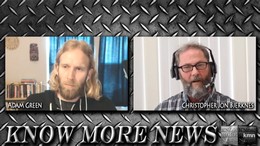 Know More News - The Bolshevism & Zionism Dialectic
Thanks to Adam Green and Christopher Jon Bjerknes.
This information is very important for every human on earth.
Length of video interview: 1:34:38
Visit Know More News on youtube. youtube.com/channel/UCaRjFptz7970mppuiGuZtpQ
Visit Christopher Jon Bjerknes on youtube and cjbbooks.com
In less than 10 days that video / talk was banned in mostly EU.
2 people talk together = Not allowed.
And you still think your not living under a tyranic system? Used to be called Communism.
Hear Adam and Christopher latests talk here: https://www.youtube.com/watch?v=83t_Q0Az12o