Eva Bartlett speaking about Syria and Aleppo
Details

Category: Information om Manipulation
Created: Wednesday, 14 December 2016 15:02
Written by Nylonmanden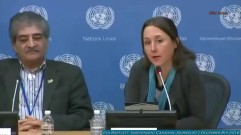 What is going on in Syria and Aleppo

Eva Bartlett, Freelance Journalist from Canada - Tell her story.

Mainstream Media keeps lying, so maybe you should ask the question - Who control the mainstream media?

I have allways been told: Don't believe everything you read/hear on the NEWS.
Im sure many more have been told this, so think about what stories You have read/heard/seen - That are NOT true. Anything comes to mind?

Video length: 18:34

Video source: webtv.un.org

Video clip uploaded to youtube by: Peekay Truth

This video clip contains questions from Christopher Rautenberg from Aftenposten (aftenposten.no) - Though I have not been able to confirm this information, given by the Man asking the questions.