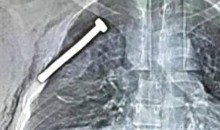 The power that be cannot stop making fear propaganda. The behaviour is just like an
addict, that can't stop when it feels so good - To make people fear.
The created fear in people will get the people to ask the power that be, for more protection from who ever the power that be will tell the people they need protection from.
Do NOT believe the fear propaganda.
See "picture" of "nail" "x-ray".