Details

Category: Information om Manipulation
Created: Friday, 20 February 2009 12:35
Written by Nylonmanden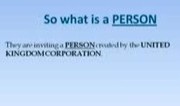 John Harris fortæller lidt om loven's eget sprog og definitionen af ordet person. Lidt det samme som Robert Menard videoen Magnificent Deception, det at være Freeman of the land.

Jeg har også selv prøvet at slå ordet person op i ordbogen, og ja en person er en skuespiller, altså fiktiv - Det samme gælder for Danmarks Statsminister, og det er endda i lovens forstand.

Video ca. lavet af: The British Constitution Group og Beacon Film Studios

Varighed: ca. 53 min.